It is good for you being here if you were looking for itinerary templates because a wide range of editable itinerary templates has been added here. These all templates are designed by professional designers and serve as a blueprint to create new itinerary for your next personal or professional trip. Itinerary can be explained as a document providing detailed information about a particular tour or journey that makes the planning easier and calmer. It generally points out places and destinations to be visited during the travelling along with other necessary travelling details like air tickets, contact numbers of traveling agents, hotel reservation dates and many more.
Itinerary is a great tool that holds traveling arrangement details and information at a place to keep you stress free before beginning the journey. Such documents can be prepared for different types of travelling such as for family trip, official vacations, business tour or college holidays travel etc. Having an itinerary means you have all required details and information you may need during the travelling to enjoy each and every moment of travelling or vacations. Most of people prepare travel itineraries as keepsake of special trips or tours.
Making an itinerary makes the travelling more interesting for you and also allows you to do research on places you are going to visit. By doing this, you can visit more places in less time to mark the journey as memorable. You can also arrange tickets for travelling at lower rates ahead of time in order to stay away from booking related problems and issues. Aside from the nature of traveling or tour, feel free to download and use a suitable itinerary template from collection of itinerary templates given below here. You can easily update the template with own details and information after its downloading.
Download Free Itinerary Templates Here
Travel Itinerary Templates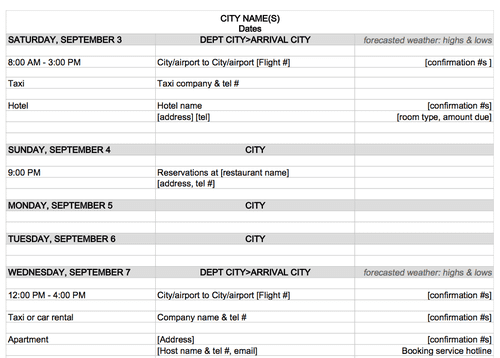 Event Itinerary Templates